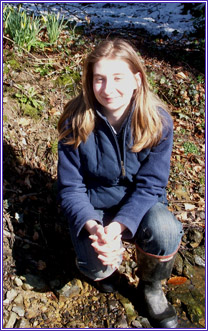 Animals have always been a special part of my life, I was attracted to them for their honesty and straightforwardness. My love of horses in particular led me to taking courses in animal communication. Whilst returning to riding schools after my time at University, it struck me that I wasn't learning to truly understand horses in the way I wanted. I started looking for alternatives. I completed courses in "horse whispering"- a method of training that works by understanding the body language of the horse and using this as a means of communication. To me it seemed clear that "whispering" still wasn't enough of an understanding with our animals. If you watch animals in a group you can see dynamics changing without the instigator changing body language. Sometimes you have a "feeling" of how to help an animal in a particular situation, or you realise the positive effect a calming presence can have on traumatised animals. To me, animal communication was a way to explore this missing link and it has helped me to understand animals at a completely new level.
The wonderful thing about animal communication is that I am now able to work with any kind of animal. Animal communication has allowed me to work with cats, dogs, horses, a goat, a cockatoo and even a wolf! I feel lucky to be able to combine my experience of dealing with different types of trauma, with communication and training methods to improve the lives of others.

I count myself very lucky to be able to dedicate my time to being with animals - particularly working with wild/traumatised ponies at an equine welfare organisation. Ponies that look wild out on the moor are rarely untouched. They have often come into contact with people either for identification purposes (ear notching/branding) or castration. If these procedures are not carried out in a sympathetic manner, they result in ponies that are traumatised and petrified of people. I have been able to work with ponies who suffer from varying degrees of trauma. The aim is to rehabilitate ponies - helping them realise that people are trustworthy and teaching ponies skills (leading, long lining, learning to be ridden, picking up feet etc) to allow them to find new, hopefully lifelong homes. Being at the charity involves teaching volunteers and new owners (with differing levels of horse experience) skills to help improve their understanding and ability in dealing with horses and ponies.

During 2007-2008, I also helped to rehabilitate and retrain racehorses who came straight from race-yards with behavioural problems (severe separation anxiety, fear of stabling, unable to be led, catching problems) as well as physical problems. It is so rewarding to see them overcome their difficulties and realise they can have confidence in other people and themselves.
Looking after farms for people whilst they are away means that I have looked after lots of different animals - cats, dogs, horses, chickens, ducks, sheep, rabbits, guinea pigs and stick insects! It has also been a pleasure to help people by exercising their dogs by taking them running, taking horses for walks along country lanes, helping people make progress with dogs that cannot be groomed and helping children learn how to ride so that they understand the effect their energy has on their horses and enabling them to overcome problems.

In 1996 my family became owners of Merit, a 10 week old Dalmatian. The reason for choosing this breed was because they have a special fur that means people are less likely to be allergic to them (my father is allergic to all other types of fur and feathers). As soon as Merit was old enough, we enrolled in puppy socialisation classes. With the help of cheese treats, we completed all his basic training with relative ease. One thing people should know is that Dalmatians have A LOT of energy - they were used for escorting horse drawn carriages and we found that a minimum of 7 miles a day is needed to keep a fully grown Dalmatian happy - Merit was trained to run alongside a bicycle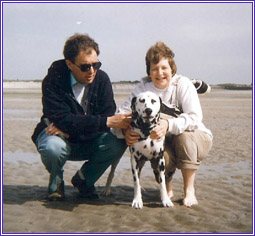 - a pace that really suited him. Unfortunately, at the age of 4 he was diagnosed with a back condition which was not curable. Steroids were offered as a treatment but his life expectancy was no more than 6 or 7 years of age. Concerned about the effects of steroids, we sought alternative treatments. Homeopathy worked brilliantly for him alongside chiropractic treatment and sessions of hydrotherapy. Merit's condition was so well managed that he was running 3 or 4 miles with me until the age of 10½. Then he started slowing down as his back condition progressed. Merit is now 13 and has the most remarkable determination to work through his back condition and loves a stroll along a beach. He enjoys his cranio-sacral treatment
and he has, so far, remained chemical drug free by using herbal/natural, just as effective alternatives that have lesser side effects. Animal communication has been so helpful in selecting the right treatments for him. It allows us to make him as comfortable as we can in his later life.
Lastly but by no means least...In 2007, I made an amazing initial connection with an ear notched former stallion, who was wild until he was four years old. When he was a foal, his first experience of people was being ear notched and this caused him to lose all trust in people. Although he had already had initial handling when I met him, he was still trying to deal with his troubled background and he was well known for biting - the kind that gives bruises of all colours! Our connection was so strong that I felt I should adopt him and become his new owner. He has overcome a lot of his emotional turmoil and is now much more relaxed and balanced. People are no longer being bitten. Communication allowed me to understand that the biting was an attempt to make people aware of the anxiety he was feeling - he needed someone to listen to him, understand the problem and then help him through it. When people didn't listen, he became frustrated and the biting became worse. He has taught me so much - how important energy is and how we can use it...he also was my inspiration to start looking into animal communication, which is now part of our everyday life. In 2008 he was placed first in two shows and went on to win reserve champion.

All text and images property of Faye Stacey - © 2009